Yandex Wardrobe
Yeandex Wardrobe Challenge is a digital activation campaign for a clothing search section of Yandex, the largest Russian search engine.

Challenge
To activate a new section for online clothes shoppers, Yandex asked us to come up with a digital campaign on Afisha.ru, a Russian entertainment website.

Insight
Many young women, who are the target audience of the campaign, consider themselves very experienced in being fashionable and good looking. What if we could let them measure and show their expertise, compete with their friends, and at the same time spread the word about new Yandex's clothing section?
Solution
Yandex Wardrobe Challenge is a test-like game that allows players measure how good they are at knowing fashion and style. By answering 11 interactive questions – each with different mechanics – the player reviels her badge and score which she can publish in social networks. Her friends are also encouraged to play and compete with her. So by playing and sharing people are spreading a word about new Yandex section.
Interaction design and content
The first step to make idea into a real website was mock up the key screens.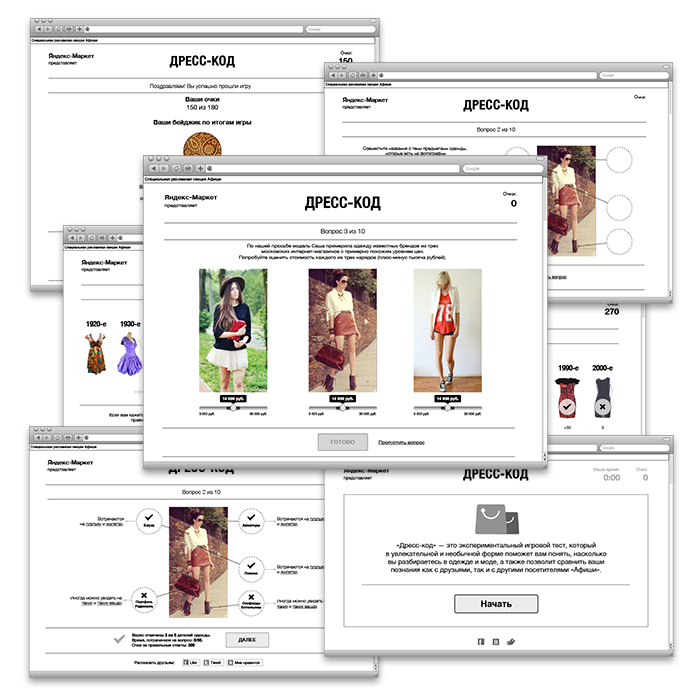 At the same time we were working on the questions, so each of them was different and featured a new interaction style.
Visual design
As soon as we finished with sketches and questions, we started with a visual design.

Design by Stas Polyakov and Sasha Batuev