Rambler Kassa
Rambler Kassa (or Rambler Kiosk) is the easiest way to buy movie tickets online in Russia. It gives people access to hundreds of cinemas across the country and offers any movie-oriented website to place a widget (like Facebook or Twitter buttons), which allows users to buy tikets to any movie instantly.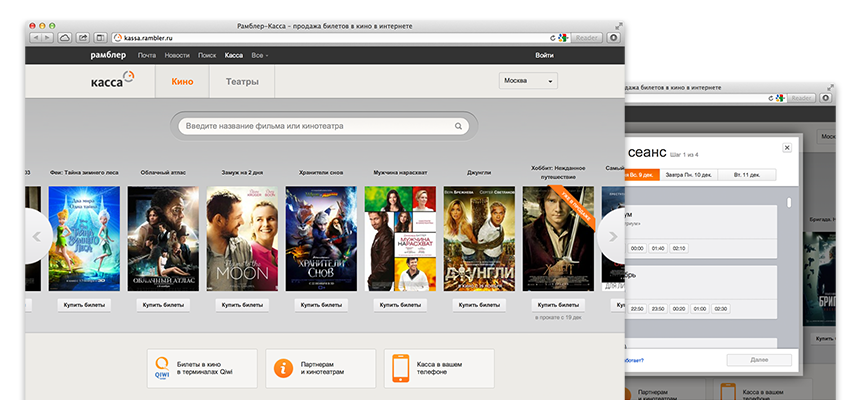 Challenge
The original idea was to launch a ticket-selling service for events, but the market was quite saturated. So the challenge for us was to find a market niche and introduce a competitive way to sell tickets online.
Research
We conducted a research to define our target audience: people from 18 to 45, living in big cities, who visit cinemas and concerts time to time, and are willing to have some comfort and save time buying tickets. A set of interviews with people let us figure out their habits and bariers they have with existing services.
Concept
At some point of our research we understood that selling movie tickets online is a good market to enter, and came up with an idea for distribution. The concept now was to create a service which would let people buy movie tickets anywhere online by letting movie-oriented websites easily distribute the service and earn a fee. For site owners it would be as easy as placing a button (like a "like" or "tweet"), which, when clicked, would open a pop-up frame with movie tickets for the end user.
Interaction design
Based on people's tasks, we started prototyping a solution for several platforms. By iteratively changing the prototypes, testing and adjusting them, we came to a final set of wireframes.
Visual design
Final design adjustments were made while finding look and feel. Now the concept bacame visual.
Visual design by Merdan Agayev
Tech
To implement the design, an inhouse team of agile developers worked on a project. We also partnered with a company that produces interactive kiosks to develop our solution for this platform.
Results
Rambler Kassa was launched in June of 2011 and became a very popular service for buying tickets online. Rambler partnered and distributed it service via leading Russian movie websites, such as Afisha, Kinopoisk (Russian IMDB) and Yandex, which allowed users to buy tickets with comfort at their favourite platforms.