The Great Escapes
Raiffeisen Bank's campaign and microsite to promote the bank's credit cards among travelers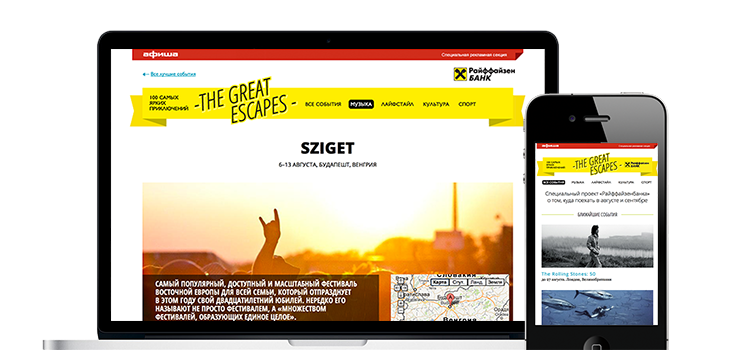 Challenge
Raiffeisen Bank asked us to promote their credit cards solution among the audience of Afisha.ru, a leading Russian website for entertainment, in the hottest time of the year – August and September.
Insight
Many people in Russia choose end of summer and the beginning of fall to go to vacations and travel, and some of them don't know until the last days where to go. Could we somehow use this fact to introduce Raiffeisen's credit cards?
Idea
The Great Escapes is a campaign and microsite, based on Afisha.ru, telling a story of 100 exciting events – festivals, exhibitions, parades, etc. – that happen everywhere in the world during August and September. Visitors can see all the wonderful options of how they can spend their vacations abroad, and when it comes to the means to get there, Raiffeisen Bank is there to help with practical advice: tickets, flights and hotels are easy to book using bank's credit cards.
Interaction design
Next step was completing a set of sketches and later wireframes to explain the idea and confirm it with the client.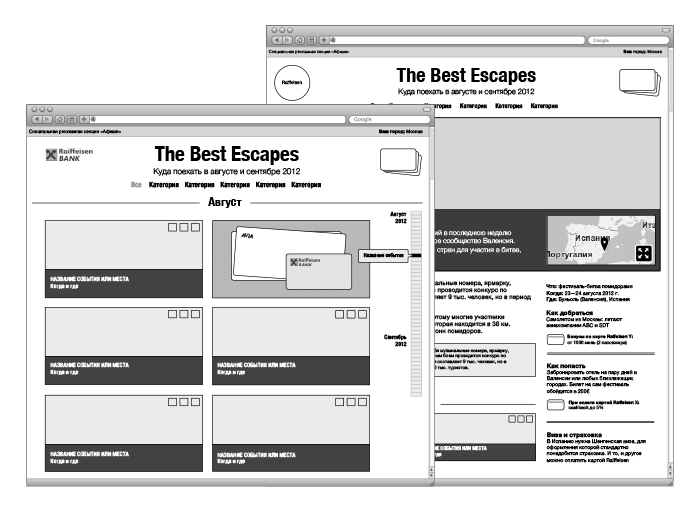 As soon as we got a 'go', we proceeded with the visual design.
Visual design
Together with a great visual designer from Lviv, Ukraine, we continued to work on the project's look and feel, ensuring that the design was responsible to support mobile devices.
Visual design by Ross Sokolovski
Tech
Last thing was to develop and test the microsite and launch the campaign. We asked a team of developers to make sure the design was resposive and tested it with multiple mobile devices. After a set of QA tests we were ready to release.
Results
The project launched in the end of July of 2012 and was on air for 9 weeks. During this time 20 000+ people visited the website and got inspired by the vacation suggested. Raiffeisen Bank loved the campaign and asked us to come up with a follow up project later on.